Let's Learn Religion: It Is Easier for a Camel Toe to Pass through the Eye of a Needle…
I am sorry to report that it is time to talk about…the Camel Toe.
You don't need me to tell you what this is.  We're all adults here.  This doesn't have to be like That Awkward Moment When a boy in my 6th grade Spanish class told me what "sixty-nining" was, in a descriptive so goofily off-base to my well-informed adult retrospective that he was almost certainly intentionally misled by a prank-minded older sibling.  This same boy incidentally tried to convince me that babies come out of a woman's butt.  That's not true, is it?  Because I'm not prepared for that.
But awkward sexual misinformation is not what I want to talk about today.  I do a lot of observing from bus windows, because I spend a lot of time sitting in traffic, and there is a demographic that's always fascinated me, one I like to call "Women With No Place To Be".  Not socialites, exactly, but they are not like me, w*rking people whose every daily hour is accounted for by some obligation.  Their nails are always done because having manicures fills their time.  Their hair always looks frosted in a way I find unsavory, but which one can tell was expensively processed because money is not an issue for them.  They have many leisurely hours to spend each day, and for some reason, they are often doing this on street corners at 7 AM, perhaps after a refreshing run through through the park.
I recently saw two such women conversing on Fifth Avenue.  One was very preppy looking, with a tangerine colored cardigan draped over her shoulders, a short-sleeved white polo shirt, cropped khakis, those ugly flats with the big gold buckle on them like pilgrim shoes, and bunions.  Her friend wore a technical athletic no-bra tank top and bicycle shorts.  Visible to God and everyone was the fine, intimate detail of her entire personal lady yo-yo.
Right there on Fifth Avenue, at an hour when young children are walking to their private prep schools or whatever they do.  Labia.  She-flaps.
Come on, now.
~~~~~~~~~~~~~~~~~~~~~~
A part of me wanted to judge this woman for walking around with her roast beef sandwich on display, but another part of me felt that her friend was more at fault.  I don't know how it is with these social type ladies, whether they have the kind of relationships with their friends that I have with mine, but I can say with 100% certainty that if any woman *I* call a friend were walking around with her vulva showing, I would tell her.  Particularly if she didn't seem to know.  It's like parsley in your teeth, times one million.  You don't let someone walk around that way.
~~~~~~~~~~~~~~~~~~~~~~
OR DO YOU?
I've had my share of undergarment malfunctions.  It happens.  You don't realize you're walking around with your high beams on, or if you're this woman I saw on 47th Street recently, you're completely oblivious to the fact that your entire beaver is visible when the sunlight shines through your sheer white skirt.
I recently reported on a major social networking site, which is very useful for important current events like this, that I spent the whole day with my underwear on sideways.  I realized it halfway through the day, but to fix them would have required removing my pants, something I cannot easily do outside of the house.  And at home I rarely wear pants, so this doesn't come up a lot.
My friends were stumped.  "How did you get your underwear on sideways?  How did you not notice?"  EASY.  I was wearing a stringy thong, and the crotch and sides are of almost identical thickness.  I simply stepped into the wrong hole.  I spent the whole day with the crotch part riding around on my hip.  It was my little secret, until I told the entire fucking world.  It's not like I even wear underwear half the time, so forgive me if I'm less than adept with it.
~~~~~~~~~~~~~~~~~~~~~~
There's a spiritual lesson to all this, obviously.  It has to do with judgementalism.  I will admit that sometimes I am kneejerk about judging, but I'm trying to learn.  Trying to walk a mile in another woman's vulva-hugging bike shorts.  Trying to remember that people who live in crass houses shouldn't mock the glaringly visible cameltoe of the social elite.  Trying to put my underwear on, one leg at a time.  Like Jesus did.
The cover of my book of the underpants bible will be this image, created by my excellent friend Jugensensunspellable, who is masterful at sticking my face on things in photoshop: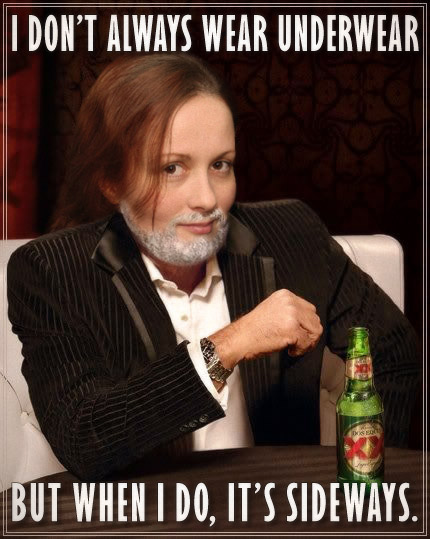 The point:  Judge not the cameltoe lest ye have your cameltoe judged.  To everything there is a season, and that includes highly visible snizz shapes.  The Lord works in mysterious ways.
You have learned Religion.  Go in peace.